Our work with school leaders has resulted in significant improvements in student achievement. We expect the NCS cohort of schools to increase and sustain these outcomes, which are key indicators of student success in high school and beyond.
---
On-Track and High School Graduation
According to the UChicago Consortium on School Research (the UChicago Consortium), an NCS partner, three critical indicators that impact student success in and beyond high school are the On-Track to Graduation rate, the high school graduation rate, and the college enrollment rate. The On-Track rate is a key metric in the freshman year that shows a direct correlation between the number of core courses students pass in 9th grade and their graduation rate. In 2016, our cohort of schools averaged a 87% On-Track to Graduation rate. Schools with NCS for three or more years achieved a rate of 92%. For more information on On-Track, click here.
In the past 10 years, Chicago Public Schools have experienced unprecedented increases in graduation rates, from 57% to 74%. In 2016, NCS partner schools achieved an average high school graduation rate of 78%. Schools with NCS for three or more years achieved a rate of 82%.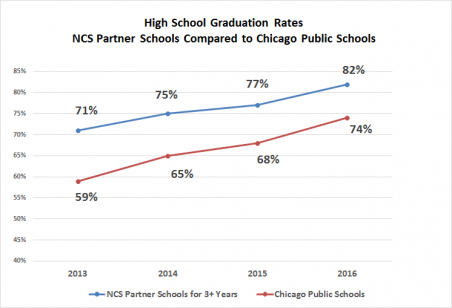 College Access and Enrollment
Our latest college enrollment data, of 2015 high school graduates, indicates a 61% enrollment rate. Schools that have partnered with NCS for over 3 years reported a 67% enrollment rate. These average rates represents a consistent increase from year to year, and surpasses the District by 3% and 9%, respectively. While 2016 college enrollment data is not available, our work with counselors last year resulted in 94% of students applying to at least one college. In addition, 88% of students in our partner schools applied to three or more colleges, which according to the UChicago Consortium report, Potholes on the Road to College, greatly increases their likelihood of being accepted.